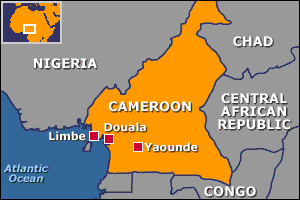 Two young men charged with homosexuality-related crimes have been released from police custody in Cameroon after paying a bribe, according to human rights activists who worked on their behalf.
This new, detailed account of the case of the men identified as Depadou N, 21, and Paul Arno, 24, differs greatly in timing and outcome from the version in a recent Amnesty International report on human rights violations in Cameroon.
That report said they were arrested in November 2011 and held until at least December 2012, awaiting trial on charges of engaging in male-male sexual relations. In the activists' account, the two men were arrested Nov. 23, 2011, and released five days later. In addition, the complaint against them was dropped.
This is the men's complex tale of harassment, intrigue and bribery in  Yaoundé, Cameroon, as told by their supporters:
"Depadou N" and "Paul Arno" — pseudonyms given to the men by their advocates —  were arrested after a complaint by a senior official of the Republic of Cameroon who was a friend of Paul Arno's family.  The complaint came after a family dispute over alleged homosexuality.
The official, referred to here as Mr. Ecks, was a close friend of a Mr. Yiy. One day an amorous text message from Ecks to Yiy was spotted by the wife of Yiy, who asked Ecks about it and caused a family scandal that led to the end of the relationship between Ecks and Yiy.
Later, Yiy died and Ecks spoke emotionally about him. Arno, a nephew of Mrs. Yiy, was reminded by Ecks's comments about the relationship that Ecks formerly had with Yiy. Arno then gave the telephone number of Ecks to a friend, Depadou N.
Depadou sent Ecks an amorous text message of his own (similar to the one that got Roger Mbede into trouble). Instead of responding as Depadou hoped, Ecks turned him in to police, who arrested him and detained him at the Nkoldongo police station.
Arno and a friend, called Mr. Zee, went to the police station to take him some food, but Arno too was also arrested, because Depadou had told police that he had obtained the telephone number of Ecks from Arno.
Both Depadou and Arno are members of the anti-AIDS human rights organization Camfaids (Cameroonian Foundation for AIDS), so Camfaids president Dominique Menoga went to the police station and asked to see the file about the two detained men. Police did not let him see it.
The incident was turning into a hunt for homosexuals, as police sent a summons to Zee too. Menoga sought help from human rights attorneys Michel Togue and Alice Nkom.
Togue advised Zee not to answer if questioned by police, and to ask to see his lawyer.
In order for Depadou and Arno to be freed, Ecks would have to — and did — withdraw his complaint and they would also have to pay police a bribe of 500,000 CFA francs (US$1,022 or 759 euros).
They paid half that sum in advance, and said they would pay the rest within a month.
During the days when they were held at the police station, they were confined in an office rather than in a cell.
During that time, as one activist commented, "They were denied their right to freedom simply because police wanted that 500,000 CFA francs."
Related articles