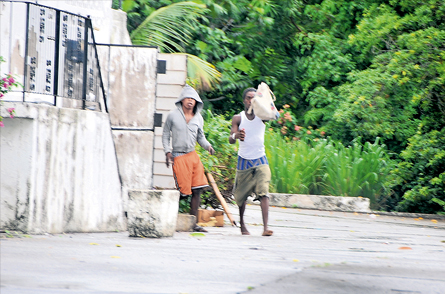 On multiple occasions I have written to the Press Association of Jamaica (PAJ) to ask them to rein in and condemn the blatantly homophobic characterization of homosexuals by the Jamaica Observer newspaper. I have NEVER received so much an acknowledgment that any of my correspondence were received.
However, when some homeless gay men attack a Jamaica Observer reporter who went to take pictures of them in the home they were squatting in, the PAJ quickly issued a public letter almost blaming J-FLAG (a non-member organization) for the actions of these homeless men. The PAJ then called on J-FLAG to control the actions of these independent persons.
The bias of the PAJ is palpable.
I would also wish to point out that, under the law, someone in possession of land may use all reasonable force to resist the trespass of another upon his premises.  Since possession is nine-tenths of the law, it was the Jamaica Observer reporter who was trespassing on the privacy of these young men who have been hounded and chased out of every home by a callous and uncaring society.  In light of the Observer's recorded hostility towards these persons; the paper's reckless publication of the previous location of J-FLAG and JASL which contributed to the men being ejected from those premises; and the critical security imperative of keeping the location of this new safe haven private, I submit that the attack on the photographer can be reasonably construed as self-defence.
— Maurice Tomlinson
REPORT OF HOMELESS MEN ATTACKING JOURNALISTS
The following are excerpts from the Jamaica Observer article of May 30 describing an attack by two homeless men on journalists investigating complaints about men living in an otherwise unoccupied house in an upscale neighborhood of Jamaica.  The headline is "Men in house said occupied by gays attack Observer news team":
While the two reporters were sitting in the marked vehicle, the Observer photographer, who attempted to snap pictures of the house at 16 Millsborough Avenue, was attacked by two gay men who ran towards him with a bag loaded with bottles.

The men flung bottles, stones and other missiles at the photographer and a marked Observer vehicle as they hurled expletives. Even as the photographer made his way speedily towards the vehicle, the men continued their assault and bottles and stones sailed inches past his head and the vehicle.

The gays only retreated after the photographer managed to enter the vehicle which drove off. However, no one was hurt and the vehicle suffered no damage.
The article also quoted an unidentified woman stating:
"Whenever a gay man gets hurt or killed, even if it is at the hands of other gay men, you hear all kinds of fancy statements being released by J-FLAG (the Jamaica Forum for Lesbian, All-sexuals and Gays). Where are they now that some of their own are infringing on our rights? It is another example that J-FLAG has been trying to paint Jamaicans as homophobic but, if we were killing gays as they claim, would these men be able to come and destroy our decent community for months without being attacked?"
PRESS ASSOCIATION COMPLAINS TO J-FLAG
In response to that incident, the Press Association of Jamaica sent this letter to Dane Lewis, executive director of the Jamaica Forum for Lesbians, All-Sexuals and Gays (J-FLAG):
Dear Mr. Lewis,

Reports of a group of homosexual men endangering the lives of journalists trying to do their jobs on Wednesday May 29, 2013 is of serious concern.

As we understand it, a team comprising a reporter, photographer and a driver from a local media entity visited the Millborough community to speak with residents about complains made to the police about the rowdy behavior of homosexual men living in the area. This is well in keeping with the role of the professionals to bring to national attention matters of public interest.

There is no indication that the journalists attacked the men or sought to invade their privacy. The fact that the team was viciously pursued and stoned must be seen as a direct attack on the press. We condemn this is the strongest possible way.

We have encouraged our members to make an official report to the police.

We ask that you inform the persons you seek to represent to desist from interfering with journalists in the line of duty and educate them on the critical role a free press plays in the democracy.

Kindest regards,

Jenni Campbell
President
Press Association of Jamaica
J-FLAG RESPONDS TO PRESS ASSOCIATION
J-FLAG's response is described in these excerpts from an article in RJR News Online:
JFLAG stated that they condemned acts of violence by homosexuals, but stressed that they were not a membership organization that had direct control over members. JFLAG also stressed that solutions are needed for marginalized groups of homosexual males who are usually accused of involvement in these activities.

The letter then went on to cite the Code of Practice for Jamaican Journalists and Media Organizations on Privacy and Discrimination, chastising the PAJ for media houses which "continually present stories using sensational headlines and citing the sexual orientation of those involved in various issues, with little if any bearing on the real story."

The Executive Director further stated, "Additionally, I must emphasize that this event cannot become an excuse to pathologize LGBT identity in the media. It would be unethical for the actions of a few individuals to become illustrative of the core values of an entire population as has been imputed into some of the reports by the insistence on referring to the young men as 'Rowdy Gays'."
Related coverage:
The press association's apparent confusion about J-FLAG's role in Jamaican society is despite a similar statement that J-FLAG issued in January, when it responded to newspaper accounts of gays "wreaking havoc." That letter stated, in part:
J-FLAG wishes to respond to a report in the Jamaica Gleaner on January 25, 2013, that "gays are wreaking havoc" in South East St Andrew and the police are experiencing severe challenges in addressing the unruly behaviour of some homeless gay men.

We want to make it absolutely clear that while J-FLAG advocates for the rights of all Jamaicans, and in particular members of the lesbian, gay, bisexual and transgender (LGBT) community, J-FLAG does not condone any form of misconduct, violent or criminal behaviour.

In addition, while these individuals may be members of the LGBT community, J-FLAG cannot be held culpable for their actions and behaviour. As an advocacy organisation, J-FLAG seeks to ensure that the state provides protection for the rights of all persons and that its services are afforded to everyone, including LGBT people.

The organisation provides services for those who have been victims of homophobic discrimination, violence or other forms of abuse. Furthermore, whereas J-FLAG seeks to empower LGBT people to claim their rights as outlined in the constitution, we have always encouraged our constituents to recognize that citizenship comes with responsibilities.
Related articles