Yelena Grigorieva, a Russian activist advocating LGBT rights and opposing the Putin regime, was stabbed to death in St. Petersburg over the weekend after her name appeared on a web site urging the slaughter of gay activists.

Reports in the Russian newspaper Fontanka said that a suspect, a "40-year-old resident of Bashkortostan," had been detained by police.
Grigoryeva, 41, was active with Russia's Alliance of Heterosexuals and LGBT for Equality and other activist causes, according to the Russian LGBT Network.
"I learned today that Lena asked a mutual friend to take care of her cat in the event of her death when she was threatened with murder," friend and fellow activist Dinar Idrisov wrote on Facebook.
"The state of Russia was obliged to guarantee her the right to life," Idrisov wrote. "Lena and her lawyer appealed to law enforcement agencies both on the fact of violence and on the fact of threats, but there was no noticeable reaction."
On Tuesday, Idrisov updated his post to note that Grigoryeva's mother had identified her body and that investigators in St. Petersburg had taken over the case. Other activists said on social media that Grigoryeva's body was found near her home over the weekend with stab wounds and signs of strangulation, The Moscow Times reported.
On July 18, just days before she was killed, Grigoryeva posted an alert on her Facebook page about the ["snuff"] website.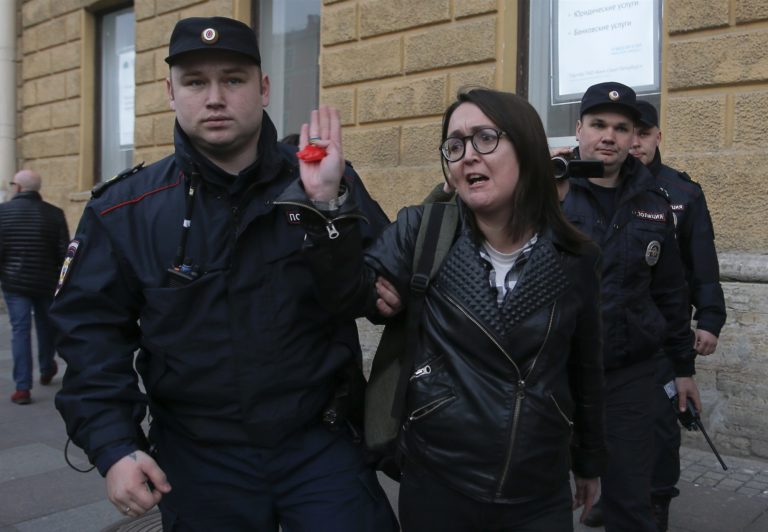 Grioryeva wrote that the site, which organizes a "hunt for homosexual, bisexual and transgender people," went online in spring 2018 and wbas shut down several times but always popped back up. The website posted the personal data of "presumably LGBT+" activists, "including photos and addresses," and offered prizes to those who completed an attack.
"Law enforcement agencies have still not done anything to find the creators of this 'game' and bring them to justice," Grigoryeva wrote. She called on those opposed to the website to contact the Russian prosecutor's office and the FSB, Russia's intelligence agency.
"IMPORTANT!" Grigoryeva wrote. "The Russian LGBT network has repeatedly tried to find people affected by the actions of this group, but failed. We did not find a single attack case directly related to this group."
Three days after her post, Grigoryeva was dead.
Police in St. Petersburg confirmed she had reported being threatened repeatedly, but said the threats had not seemed a risk to her life and were related to domestic conflicts with people she knew, the RBC media portal reported.
Svetlana Zakharova, communications manager and a board member of the Russian LGBT Network, confirmed Grigoryeva's account.
"Actually, we found out [the list] exists last spring, and since last spring, we applied to the many officials — police, prosecutors office, investigators committee and other activists — we asked to block it," she said.
Zakharova said the website was blocked a few times — including last week — but it kept reappearing, "and this summer in July there was Yelena's name in this list."
"They publish the information, like LGBT activists' photos, addresses, names, and they call to hunt LGBT activist and to get a reward for that," Zakharova said.
Infos LGBT reported that Grigorieva regularly participated in rallies for the LGBT community and on behalf of political prisoners. She also protested the annexation of Crimea by Russia.
She was reportedly strangled and stabbed in the back and face.
This article was updated and expanded on Aug. 25, 2019.