In a new video, human rights activist Juliet Mphande calls on Zambia to grant LGBT people "the same liberties as  every other citizen."
"We have a nation that historically has spoken out against all forms of injustice across the region," she says in the video, which was created by the South Africa-based LGBT media advocacy group Iranti-Org.
Mphande, who is the director of Friends of Rainka, an LGBTI human rights organisation in Zambia, was interviewed for the video by Jabu C. Pereira, director of Iranti-Org.
The video comes at a time when Zambia is cracking down on alleged homosexuals — a political ploy designed to distract Zambian citizens from the country's problems, she says. At least two homosexuality-related trials are under way, and the leaders of LGBT rights groups have been warned that they could be arrested.
"Zambia took one of the leading roles in the fight for independence and liberation for the African struggle," Mphande says.  "It's time for Zambia to lead the process in minimizing hate speech in the press, hate speech in the communities, homophobia or transphobia or any sort of marginalization of individuals who may be different."
Same-sex marriage is not the goal, she declares.
"When LGBT and human rights defenders ask for rights they are not as asking for marriage. They are merely asking to be afforded the same liberties as  every other citizen," she says.
In the video, Mphande also discusses the organization Friends of Rainka (a name derived from the English word "rainbow" and a Zambian word for "queer").
She describes Zambian laws against homosexuality, which provide for up prison sentences of 15 years to life for same-sex intimacy and up to 14 years for merely proposing to have sex with someone of the same gender.
She tells of the case of AIDS activist Paul Kasonkomona, who is on trial for suggesting the repeal of the anti-homosexuality laws in order to unblock LGBT people's access to health services.
"The reason why's it's such a landmark case is because it abrogates the rights of freedom of expression," she says. If Kasonkomona is convicted, anyone who speaks out about LGBT issues in Zambia could also be convicted, she says.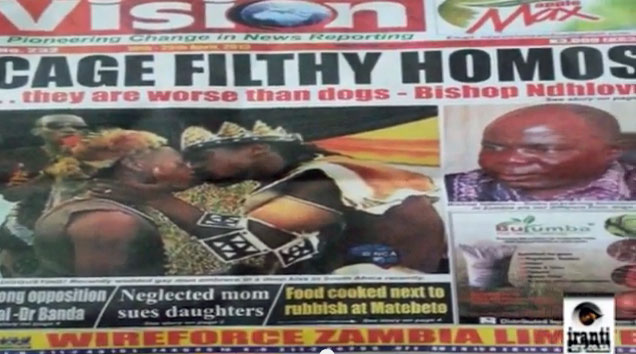 She also discusses Philip Mubiana and James Mwape, who are charged with sodomy in a case that is "the first time since independence almost 49 years ago that the consensual sodomy act had actually been used in court."
Their arrest last May was part of a deliberate strategy to distract public attention away from the country's constitutional convention, which was then in progress, she says. Stories about homosexuality dominated coverage in the country's prominent government-run newspapers, Mphane says.
Only two subjects unite Zambians, she says — football (soccer) and opposition to homosexuality.
"When specific individuals are targeted within communities and are arrested, there seems to be an outpouring of support for the state's decisions, even in the midst of whatever economic or social problems may be ongoing at the time.  The government is always commended for doing a fantastic job."
Zambia has many human rights problems, shes says, citing extra-judicial killings, disregard for court orders and a new law that will allow non-governmental organizations to be deregistered if the regime so chooses.
"I have my moments when I am afraid," she says, "but it is blows like that that actually give me determination that I am doing the right thing."
"Bigotry and intolerance has no space in a community that claims to embrace fundamental human rights principles."
Related articles