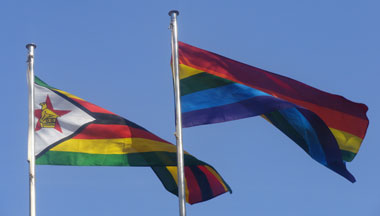 A group of students alleged to be homosexuals at Midlands State University (MSU) in Gweru, Zimbabwe, are living in fear following the publication of their names in an anti-homosexuality Facebook smear campaign .
The students whose names have been exposed said they were worried that the reports would reach the school authorities, resulting in them being punished rather than the person behind this homophobic stunt.
Some of the "outed students" say they are now a target for threats, ridicule and harassment. One student said:
"This page is so destructive, my mom heard about the news. She phoned me from Harare and she sounded very distraught. I have been receiving threats of violence from some students. I fear if I report to school authorities, I will be raising attention to myself."
On the open page called MSU Gossip Stories, the page administrator posts the names of alleged gay men, their partners and their courses. In response, many followers who are also from the college post homophobic messages.
The page, managed by an MSU student, was opened in December 2012 and has 1,838 followers, most of whom are MSU students.
"We publish all gossip that happens at MSU without fear or interference from anyone ..section 20.2 of the Zimbabwean constitution advocates for freedom of speech and that's what we do," reads the mission statement of the page.
In a post headlined "Gays on the sprawl at MSU," the page manager threatens to divulge more names and more information about the alleged homosexual students: "It has come to my attention that some gay dudes are masquerading around the campus and yet they are not revealed so today we are going to unmask..these horrible creatures."
The admin, who seems hell-bent on destroying the lives of these alleged gay men, has also received support from people commenting on the issues and adding more names to the list.
Contacted for comments, one of those outed said:
"I am scared of going back to campus because I hear there are people who want to beat me up. News about these posts went around like no man's business, even though I am not there anymore. Many students are homophobic. We were once shouted at."
Commenting on the issue, some LGBT students from the college said they were afraid of being outed on this page.
Sometime last year, the college authorities put up a notice that acts of homosexuality, prostitution and drunken behavior were prohibited. Although they are no clear implications of engaging in these, it is likely that one may face expulsion or dismissal. This explains why most LGBT people at the campus are being victimised and blackmailed.
A gay student at the university had this to say:
"It's fortunate that I do not stay on campus. Oherwise I would move out of college residence because, once people start talking, the harassment and victimisation is too much. Students are very homophobic and they can make your life a living hell, especially in shared college hostels."
Recently Zimbabweans through a referendum adopted a draft constitution that prohibits same-sex marriage.The draft constitution will not become effective until elections are held, sometime this year.
Related articles