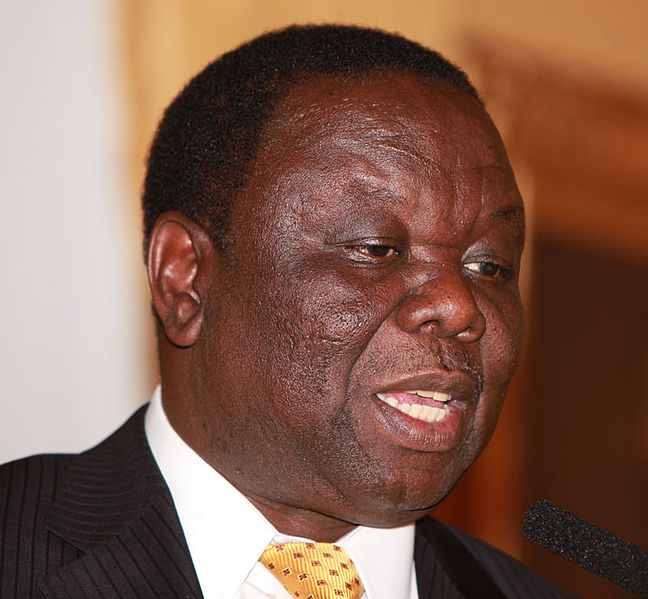 Zimbabwean Prime Minister Morgan Tsvangirai is at it again, publicly deriding homosexuality during a gathering in a high-density suburb of Glenview. Could it be that the man gets a homophobic streak during the month of March?
Exactly two years ago the leader of Movement for Democratic Change-Tsvangirai (MDC-T) made similar homophobic remarks during women's day celebrations.
Is the PM suffering from memory loss? In a BBC interview in October 2011, he said gay rights were a human right that conservative Zimbabweans should respect.
This tactic of trying to garner support using an issue which is highly emotional in Christian-dominated country has been castigated by LGBTI people and human rights defenders in the country.
At a time when the southern African country is about to go to a constitutional referendum on March 16 and  the nation is preaching peace , it is baffling that the premier again chooses to target LGBTI people.
For a leader of a party which has encountered so much violence perpetrated both by the state and by agents of the ZANU-PF party, it is deplorable that Tsvangirai uses the issue of homosexuality to drive his YES vote campaign for the COPAC constitutional draft.
He was quoted in the Herald on March 7 saying, "In the draft Constitution, we said marriage is between a man and a woman. … Those who want to marry another from the same sex, then they have a problem. Why do you want to sleep with another man?"
What the leader forgets is that such speech fuels violence against LGBTI people, some of whom are his party's supporters.
LGBTI people interviewed on a social network said they were infuriated by Tsvangirai's statements.
"When he first made his famous hate speech in 2010, we thought he had been put on the spot, especially after his party issued a statement days later distancing its self from the statements. A year later  when he said LGBTI rights should be respected, we applauded him. Now this. How can I support a party which does not respect my rights? This leaves me wondering whether I should even vote in the referendum."  — P.M., a lesbian from Chitungwiza.

"I have always stood by the MDC T party, but now I will stop supporting them. It's better not to vote. How can I put people in power so they can abuse me? Mr. Tsvangirai, you might win some votes, but you have lost mine and my partner's." —  T.Z., a gay man from Harare.

"It is sad that politicians resort to the oldest trick in the book just to get support. Tsvangirai has a chameleon character, always changing spots to adapt to situation. However, every time he does this its at the expense of us LGBTI people, him making statements that he support LGBTI rights whilst in Britain makes him appear progressive and yet the reality on the ground is he is just as homophobic as any conservative Zimbabwean. I don't even think Tsvangirai cares about other forms of violence. All he thinks of is political violence. What about homophobic violence which he is perpetuating?" — A Zimbabwean LGBT rights activist.

"When it comes to campaigning, they attack us, but when it comes to voting they never say, 'Please, homosexuals, don't vote for me. Tsvangirai should know that LGBTI people are citizens of Zimbabwe who also need protection from violence." — A gay man from Norton.

"Politicians need to know that it's all about civil liberties, which these politicians should be upholding for all, regardless or race, gender, creed or sexuality. … I have resigned myself to the fact that civil liberties will not happen in my lifetime." —  L.M.
Meanwhile the activist group Gays and Lesbians of Zimbabwe (GALZ) in a statement took a dig at the premier's speech:
We deplore the Prime Minister's statements, coming sadly on the eve of International Women's Day Celebrations and just days before Zimbabweans vote in a referendum.

It is our view that political leaders in Zimbabwe continue to pander to public prejudices against LGBTI individuals through public statements that justify the exclusion and abuse of anyone suspected of being lesbian, gay, bisexual, transgender or intersex.

GALZ shares the common desire of Zimbabweans for freedom, justice and equality, as promoted in the Preamble of the first draft of the Constitution. GALZ believes that, in recognising the diversity and rights of all people in Zimbabwe, we should also recognise that some Zimbabweans are attracted to people of the same sex.

We believe that the Constitution is not the appropriate forum to give effect to the private beliefs held by some that same-sex couples should not be married,' reads part of the statement.
As Zimbabwean prepare to vote on the COPAC draft constitution in a referendum scheduled for March 16, many LGBTI people remain the proverbial grass suffering where two elephants mate.
Related articles