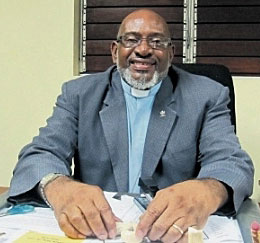 The long-awaited policy of the Jamaica Council of Churches (JCC) on the issue of homosexuality has been released. Unsurprisingly, it is very conservative, and raises the "red herring" of gay marriage.  It is important to note that this issue is NOT central to the human rights debate for Jamaican LGBT at this time.  Jamaican gays are being mobbed, stoned, shot, stabbed, firebombed out of their homes, and even murdered while some local church leaders are trumpeting from public platforms that they are willing to die to prevent the advance of human rights for gay Jamaicans.
That said, the following paragraph in the recent JCC statement caught my eye:
"While the council affirms the prophetic role of the church, it also affirms its pastoral role and so appeals to the church, as well as the wider religious community, not to speak or act in ways that could ostracise, incite violence or any other treatment of indignity towards persons who are homosexuals…"
In light of this statement, I am putting these questions to the Methodist president of the Jamaica Council of Churches:
"Does this statement mean that the JCC opposes the anti-sodomy law, which sentences consenting adult males to 10 years in prison at hard labour for their private acts of intimacy?  Is this treating homosexuals with indignity?"
These are relevant questions since the JCC claims to speak for the majority of the island's established churches.   Several of these groups have joined the Jamaican government as interested parties in opposing the constitutional challenge to the British colonially imposed anti-sodomy law. Please remember that the aim of this case is to have the 19th century law "read down" to allow for private acts of intimacy between consenting adults.  That's it.
Previously I wrote to the senior Roman Catholic bishops in Jamaica inquiring if their church supported the law.  The Roman Catholic Church held the presidency of the JCC up to very recently. However, their bishops refused to provide a straight answer to my simple question.  Instead they referred me to a very ambiguous statement about LGBT rights made by a Vatican representative before the United Nations.  In the meantime, a group of high-ranking Catholics have joined the domestic case opposing the repeal of the anti-sodomy law.  This approach certainly seems to fly in the face of the more liberal positions being espoused by Pope Francis.
I certainly hope that the current leadership of the JCC will be inclined to provide more direct answers.
For more information, read the Jamaica Observer article about the JCC statement.
Related articles